Your patient toolkit for prediabetes & type 2 diabetes


You may have been told that diabetes is an irreversible, progressive condition. However, our knowledge of diabetes has changed dramatically in recent years. Evidence from clinical experience and scientific studies shows you may be able to stop the progression of prediabetes and even reverse type 2 diabetes.
What are your preferences?
Download a PDF version of this guide.
Tell your clinician you want to:
Try to reverse or place into remission, prediabetes and type 2 diabetes. This means avoiding or reducing medication if possible, while still having safe blood sugar levels.
Use diet and lifestyle – instead of medication – to keep your blood sugar levels in a healthy range.
What is the best way to eat to improve diabetes?
Diabetes organizations agree: Reducing overall carbohydrate intake has the most evidence for keeping blood sugar at a healthy level. If you can reduce sugar, sugary drinks, and packaged sugary and starchy foods, you can probably reduce your blood sugar.
If you are currently taking medications to lower blood sugar, your healthcare provider should make a plan with you to adjust these medications when you change your diet.
Diabetes medications (except metformin) can make your blood sugar go too low if they are not adjusted when you begin to eat fewer sugary and starchy foods.
Do I have to lose weight?
If you are overweight or obese, you may have been told that the only path to avoiding worsening of your diabetes is to lose weight by counting calories, limiting dietary fat, and/or exercising more. But studies show that when you reduce the sugars and starches in your diet, blood sugar improves even before weight loss occurs. If you have had difficulty losing weight in the past, this means it is still possible for you to improve your health. (See: Gannon & Nuttall, 2006).
As a person with prediabetes or type 2 diabetes, it is your choice: focus on lowered blood sugar or body weight as a measure of better health.
How do I encourage my healthcare provider to help?
Ask your healthcare provider to help you safely make diet and lifestyle changes.
Provide your healthcare professional with the attached information.
Discuss your desire to try getting your blood sugar in a healthy range through diet and lifestyle changes first.
Plan necessary medication changes if you are limiting sugars and starches in your diet.
Together, come up with a plan to monitor your blood sugar frequently.
If your healthcare provider is unwilling to help you work on safely reversing your diabetes and reducing your medications, find one that will, if you have a choice.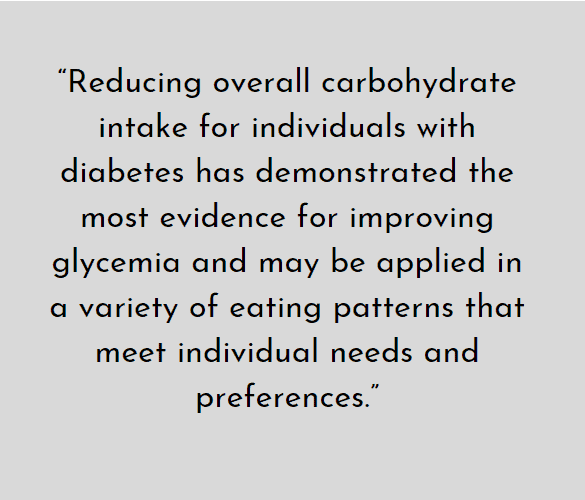 Diabetes Care 2019: Nutrition therapy for adults with diabetes or prediabetes: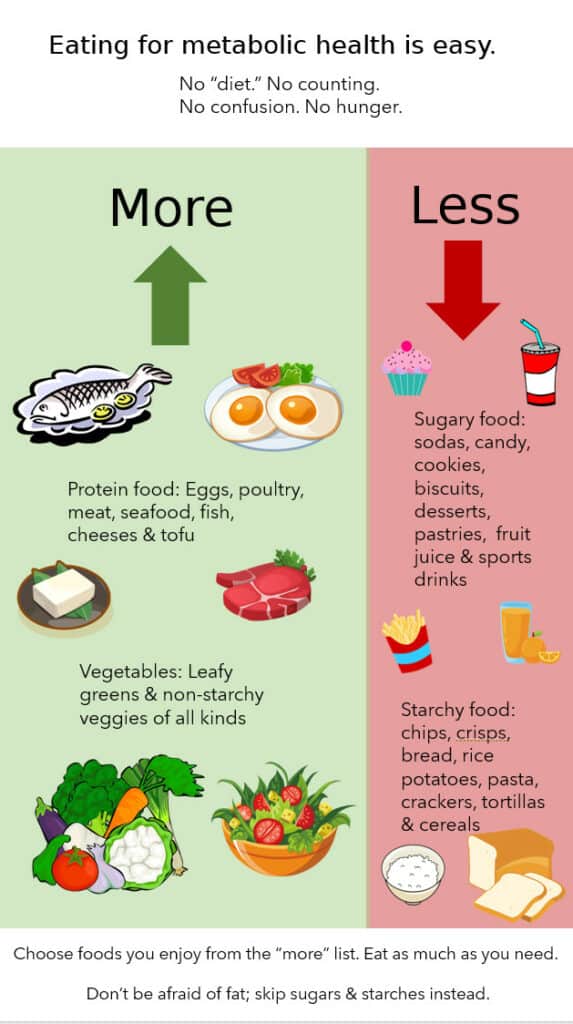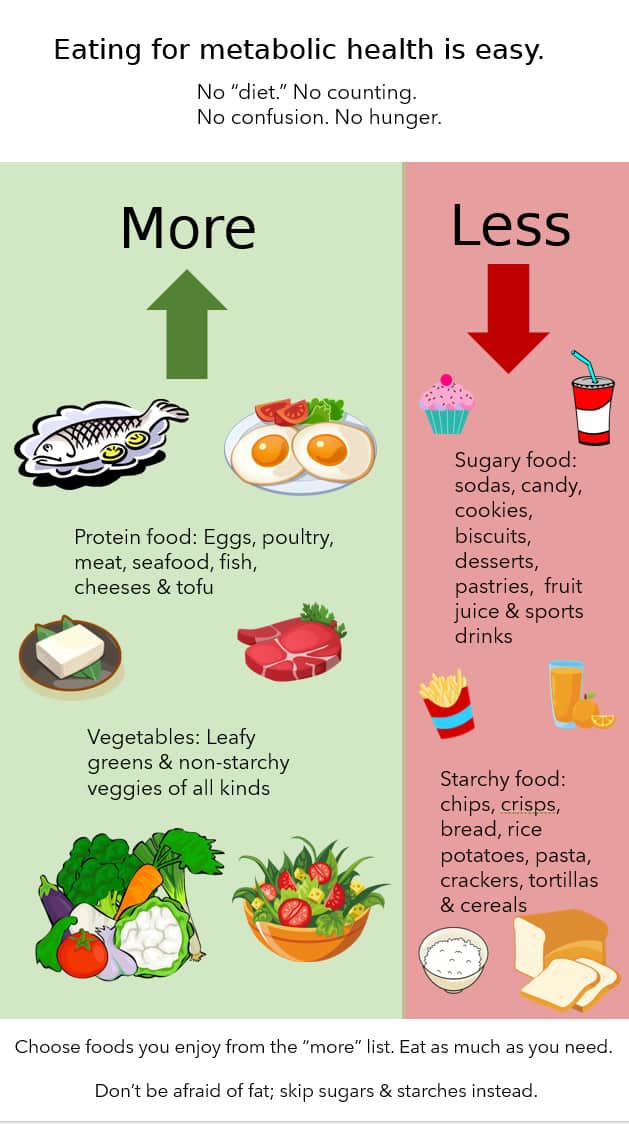 Defining reversal and remission of type 2 diabetes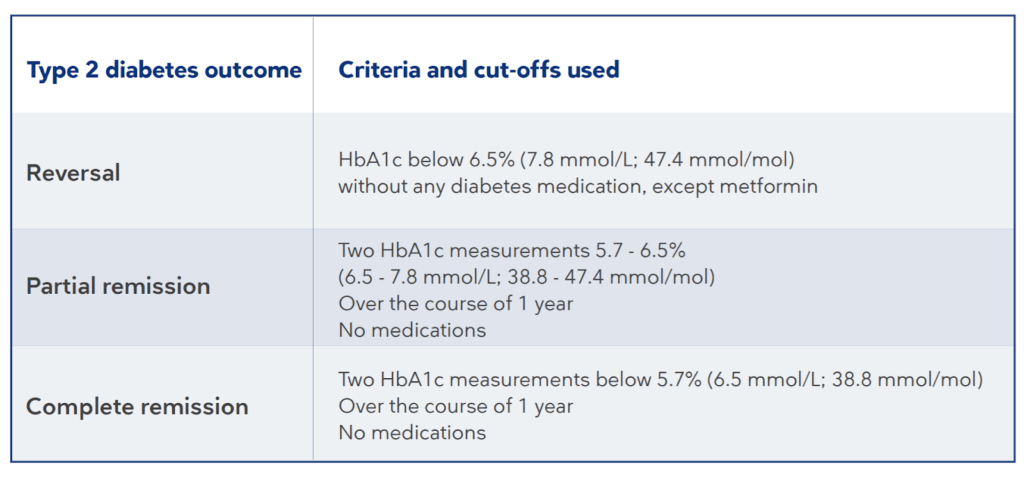 From: Athinarayanan et al., 2019; Buse et al., 2009
Adjusting diabetes medication when patients choose carbohydrate reduction
Medication reduction guidance (as attachment also)
Cucuzzella M, Riley K, Isaacs D. Adapting Medication for Type 2 Diabetes to a Low Carbohydrate Diet. Front Nutr. 2021;0. doi:10.3389/fnut.2021.688540
Murdoch C, Unwin D, Cavan D, Cucuzzella M, Patel M. Adapting diabetes medication for low carbohydrate management of type 2 diabetes: a practical guide. Br J Gen Pract. 2019;69(684):360-361. doi:10.3399/bjgp19X704525
Clinician's letter: From one clinician to another. Our thanks to team lead, Christine Najjar, MD, MS Internal Medicine with support from David Crutchfield, MD; Katharine Morrison, MD and Doug Reynolds, MHP & President, Society of Metabolic Health Practitioners.
Education for clinicians
Low-carbohydrate nutrition approaches in patients with obesity, prediabetes, and type 2 diabetes This ebooklet provides a complete overview of managing patients using a reduced carbohydrate intervention for these conditions.
Diet Doctor's free continuing medical education course: Treating metabolic syndrome, type 2 diabetes, and obesity with therapeutic carbohydrate restriction This free three-hour course offers continuing education credits for physicians, nurses, and dietitians.
Clinical Guidelines for Therapeutic Carbohydrate Restriction (Society of Metabolic Health Practitioners): This overview of therapeutic carbohydrate reduction was created by clinicians experienced in using this approach in their patient populations.
Reverse Diabetes2 Now A Dutch program for helping individuals reverse type 2 diabetes, resulting in less medication, healthier blood values (HbA1c), and more energy.
Frequent blood sugar monitoring is a teaching tool
You can help your patient determine what foods are most likely to raise their blood sugar by assisting them with frequent blood sugar monitoring. A continuous glucose monitor (CGM) is the best choice, but if that is not an option, a prescription for blood glucose test strips to check fasting, pre-, and post-prandial measurements for six weeks will also work.
Frequent monitoring is important during dietary changes that lower carbohydrate intake, as medications may need to be adjusted accordingly.
Type 2 diabetes can be reversed
Carbohydrate reduction
Athinarayanan, SJ et al. (2019). Long-Term Effects of a Novel Continuous Remote Care Intervention Including Nutritional Ketosis for the Management of Type 2 Diabetes: A 2-Year Non-randomized Clinical Trial. Frontiers in Endocrinology 10: 348. doi: 10.3389/fendo.2019.00348
Hallberg SJ. et al. (2018). Effectiveness and Safety of a Novel Care Model for the Management of Type 2 Diabetes at 1 Year: An Open-Label, Non-Randomized, Controlled Study. Diabetes Therapy 9(2): 583-612. doi: 10.1007/s13300-018-0373-9
Huntris R, Campbell M & Bedwell C. (2018). The interpretation and effect of a low-carbohydrate diet in the management of type 2 diabetes: a systematic review and meta-analysis of randomised controlled trials. European Journal of Clinical nutrition 72: 311-325.
Turton J, Brinkworth GD, Field R, Parker H & Rooney K. (2019). An evidence-based approach to developing low-carbohydrate diets for type 2 diabetes management: A systematic review of interventions and methods. Diabetes, Obesity & Metabolism 21(11): 2513-2525. doi: 10.1111/dom.13837
Low-glycemic, whole foods diet
Pot GK et al. (2020). Lifestyle medicine for type 2 diabetes: practice-based evidence for long-term efficacy of a multicomponent lifestyle intervention (Reverse Diabetes2 Now). BMJ Nutrition, Prevention & Health. bmjnph-2020-000081. doi: 10.1136/bmjnph-2020-000081
Very-low-calorie diet (total diet replacement with low energy formula diet)
Lean ME et al. (2018). Primary care-led weight management for remission of type 2 diabetes (DiRECT): an open-label, cluster-randomised trial. Lancet. 391(10120): 541-551. doi: 10.1016/S0140-6736(17)33102-1
On a budget
Low Carb on any Budget – A Low-carb Shopping and Recipe Starter Begin a Life Free of Dieting and Indulge Yourself in Health" patient guide – Guideline Central. Accessed April 7, 2022. Online flip book https://www.guidelinecentral.com/share/pocketcard/5fb6da0962f90/ PDF version to print and share with your patients.
Additional pages in PDF
Dear Clinician letter
Type 2 Diabetes: Diabetic Medications on a Low Carbohydrate Diet – A Summary & Suggestions
Hypoglycemic Medication Deprescribing
Insulin Deprescribing – Day 1 Recommendations
Thanks to the Metabolic Multipliers who helped with the developing and editing!
Metabolic Multiplier teams – Clinician Toolkit team as the primary authors. Members: David Crutchfield, MD.  Katharine Morrison, MD. Christine Najjar, MD, MS Internal Medicine. Nicholas Norwitz, PhD, an MD candidate. Murdoch Campbell, MD. Donal Collins, MD. Emily Spurlock Norbryhn, RD. Philip Ovadia, MD. David Pendergrass, PhD. Angela Stanton, PhD. Juan Carlos Torres Urrutia, MD.  Christie Barnett, APN. Doug Reynolds, MHP. Co-Chairs Adele Hite, PHD MPH, RDN. Cecile Seth, MBA.
Editors:
Dietitians' Team – Ilisa Alicea, RD. Laurie Bilyeu, MS RD LDN CSG. Alyssa Gallagher, RD, CDE. Valerie Goldstein, MS, RD, CDE. Candy Richardson, RD. Teresa Rodriguez, RD.
Education – Europe & US midday team and Education – US evening team.
Other resource guides & toolkits you might value
Curious about improving metabolic health with lifestyle?
Where do I start improving my metabolic health?
For clinicians using therapeutic carbohydrate reduction (TCR), ketogenic diet therapies (KDT)
For colleagues interested in amplifying metabolic health