What is metabolic health? A biochemist's definition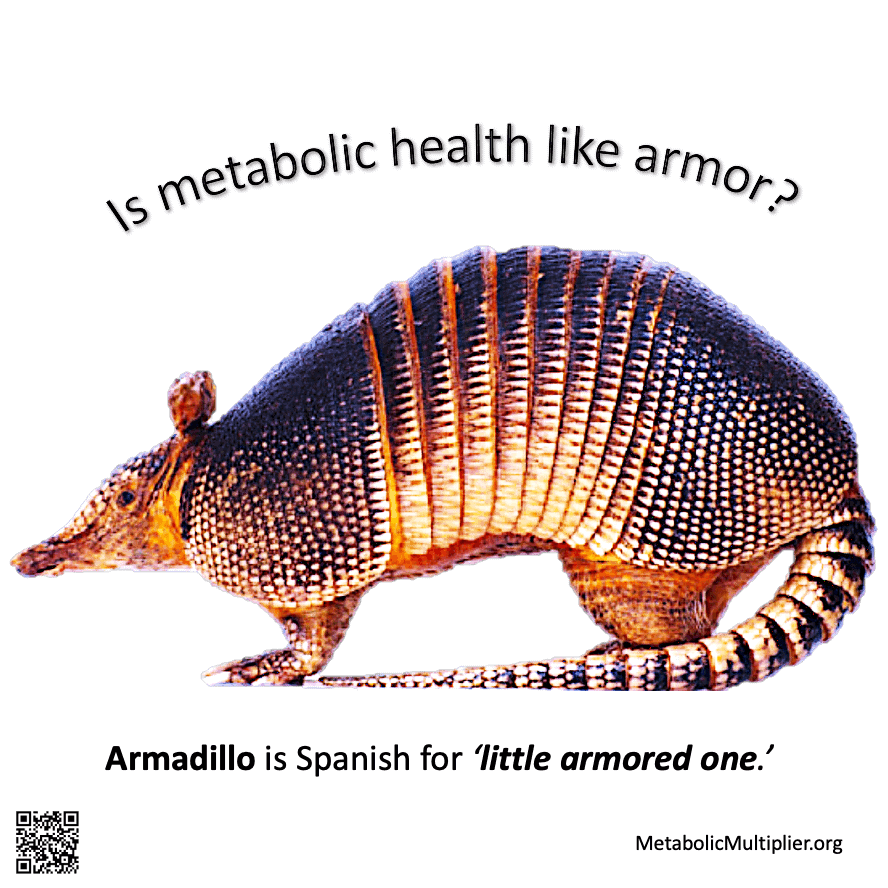 It depends on who you ask, but there are some generally agreed upon parameters for measuring metabolic health. It can be measured in our blood or bodies. These medical, physiological and laboratory test markers can indicate if intricate body processes are working normally. However, we don't have to understand the detailed metabolic processes to benefit from measuring them.
How does the biochemist who wrote Nutrition in Crisis define metabolic health?
We asked Professor Richard Feinman, PhD, who kindly provided us a comprehensive, scientific explanation:
Metabolic health is the absence of metabolic disease. Evolution only selects for those who can keep their metabolism going until the next generation.
In turn metabolic disease is defined by diseases whose symptoms can be corrected by metabolic treatment. Usually, therapies are based on controlling the input (diet) or the machinery (enzymes and hormones).
Increasingly, we see different diseases that respond to such approaches. But in the end, diabetes remains the exemplar of a metabolic disease. For example, the argument that cancer can be viewed as a metabolic disease rests in part on the similarities to diabetes.(1), (2)
Diabetes remains a disease of disruption of the glucose-insulin axis but the effects are seen in global metabolic changes.(3)
Several assays of the condition have been developed including:

Oral Glucose Tolerance Test (OGTT) (as first proposed by Dr Joseph Kraft)
Oral Lipid Tolerance Test (OLTT)
Lipopolysaccharide (LPS) challenges.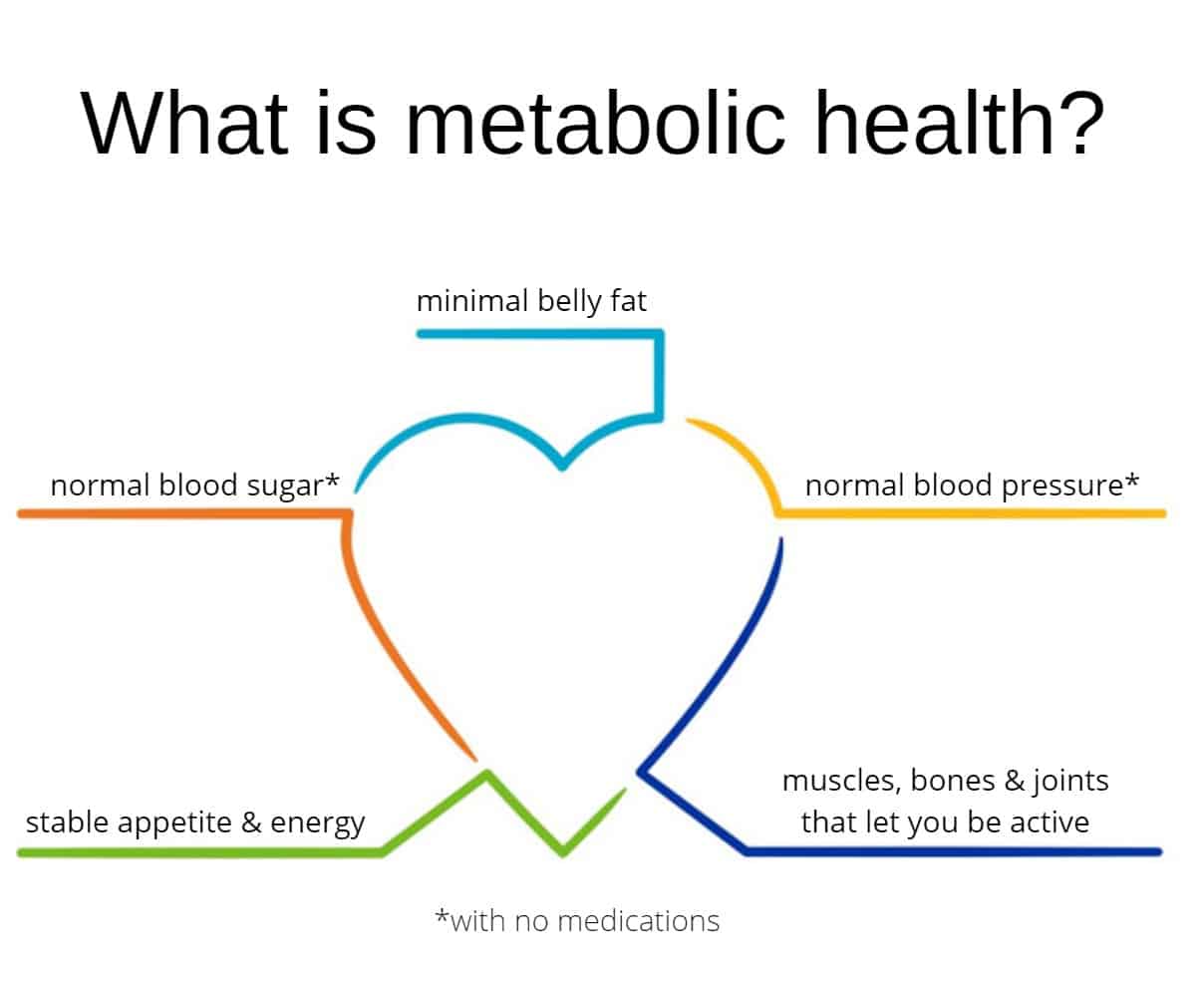 Does metabolic syndrome help us define metabolic health?
Heard of metabolic syndrome? It is defined here by the American Heart Association as occurring when a person has three or more of the following measurements:
Abdominal obesity (Waist circumference greater than 40 inches in men, and greater than 35 inches in women)
From your blood-work

Triglyceride level of 150 milligrams per deciliter of blood (mg/dL) or greater
HDL cholesterol of less than 40 mg/dL in men or less than 50 mg/dL in women

Systolic blood pressure (top number) of 130 millimeters of mercury (mm Hg) or greater, or diastolic blood pressure (bottom number) of 85 mm Hg or greater without medication
How prevalent is metabolic health?
Metabolic Syndrome is a description of disordered metabolism. Now let's compare Metabolic Syndrome with metabolic health. According to a recent study, metabolic health was defined relative to the 5 criteria above for metabolic syndrome. The study applied these current guidelines to a very large U.S. data set, the National Health and Nutrition Examination Survey (NHANES). For blood pressure (BP) they applied a slightly lower cut off, systolic BP <120 and diastolic BP <80 mmHg.(5)
Only 1 in 8 Americans is metabolically fit?
Yes. According to this NHANES study, only 12% of Americans are considered metabolically healthy.
That is, only 3 out of every 25 people have the following:
an ideal waist measurement,
are not prediabetic in their blood sugar
a normal, not hypertensive blood pressure,
normal blood fats (triglycerides & HDL), and
do not take medications for any of these issues. Wow. The study concluded:
The prevalence of metabolic health in American adults is very low, even in normal weight individuals. The large number of people not achieving optimal cardiometabolic levels of risk factors has serious implications for public health."

(Araújo 2019)(6)
What is metabolism?
Metabolism is basically every chemical process in your body necessary for the maintenance of life! It is the biological theory of everything!
Energy production?

Metabolism.

Building new tissues? Metabolism.
Breaking down old tissue to repair it?

Metabolism.

Elimination of waste?

Metabolism.

Growth? Metabolism.
Cellular reproduction?

Metabolism.

Warding off disease?

Metabolism.
You get the idea? It is everything your body does. So Metabolic Syndrome is very serious. It can impact all the varied functions of your body. Conversely, metabolic health is also important as it can optimize all these same functions making you run like a well-oiled machine!
Why do we have such poor metabolic health?
How can I improve my metabolic health?
Start with what our grandparents knew was healthy.
Eat a diet of whole foods. Reduce sugar and processed foods. Minimize stress eating and snacking.[Feinman]
Get adequate, restful sleep.
Maintain or increase your level of exercise. Consult your physician!
Reduce stress. That includes stressing about stress.
Don't eat from dinner to breakfast or lunch. Also known as Time Restricted Eating or TRE.
Get plenty of sunshine, fresh air and nature.
Maintain your positive social networks (at a distance).
Cultivate contentment. This might be through spirituality, meditation, a gratitude practice a hobby like gardening, or turning off the news.
Practice a Growth Mindset. Learn something new (Best keto resources) or read a book.
Avoid smoking, excess alcohol and drugs.
Find a clinician you can partner with. (Keto doctors near me)
If you're overwhelmed, pick one area and work on that. You might be surprised at how fixing one thing can synergize everything else!
For more ideas see these lifetime learning ideas.
How can I understand my bio-individuality?
Consider wearing a continuous glucose monitor. What happens after you eat? Do you have high blood glucose when you wake up ("dawn phenomenon")? Why do some meals seem to not affect my blood sugar very much? What's the variability in your blood glucose levels during the day?(7)
A blood pressure cuff is an inexpensive addition to your tool-kit. As we've mentioned, high BP is part of metabolic syndrome.
What about ketones? A ketone meter often has a dual capability to use glucose strips as well. What happens to your ketone bodies after exercising? If you try time restricted eating (skip a meal), then how does your ketone measurement change?
A simple tape measure can provide an indication that your lifestyle modifications are progressing as you desire. Weighing yourself can be more of an indicator of water retention or loss than of actual body mass reduction.
More detailed InBody™ metrics can be obtained from machines usually found at athletic clubs and gyms. They provide more accurate information than a weight scale and don't require blood samples.
David S. Ludwig, MD
Dr. Ludwig, MD, PhD, is a practicing endocrinologist, researcher, and professor at Harvard Medical School and Harvard School of Public Health. He also directs the New Balance Foundation Obesity Prevention Center at Boston Children's Hospital. His research focuses on how food affects hormones, metabolism, body weight, and well-being. He co-authored
Kristin Baier, MD
Dr Baier, MD, is board certified in both Family and Obesity Medicine. practices as part of Low Carb MD San Diego's Direct Primary Care practice. She shared these insightful observations:
The consequences of metabolic syndrome range from Type 2 diabetes, increased risk of cardiovascular disease and more severe complications from infections. The good news is, favorable metabolic changes are appreciated in only 3 weeks, sometimes less. In these uncertain times, empowerment can be found in making decisions that benefit your health to reduce risk of morbidity and mortality. Eliminating foods that induce hyperglycemia and inflammation are a great start to improving your metabolic health

Kristin Baier, MD 14 May 2020
Is there any metabolic health research that I might participate in?
Below are two such research projects. If you find others, then please let us know.
Gabor Erdos & Eric Smith are using metabolic measurement analytics to better understand insulin resistance over an 18 month long project. "Metabolic health, or as it is often called, metabolic flexibility, is commonly characterized by measuring insulin resistance (IR). The basic definition of IR is the alteration of observed nutrient clearance speed from the blood. I say observed, because any snapshot level is the result of processes that remove, but also of those that add nutrients to the blood.
Due to the highly dynamic nature of nutrient levels, any single measurement provides limited information. Often, determining the concentrations of two or more molecules that are in a close relationship, but delayed in time, can provide additional input to confer the underlying dynamics. Moreover, deterioration of fasting and postprandial (= after meal) levels of nutrients and hormones can be largely disconnected."

Gabor Erdosi & Eric Smith – Meterbolic
Cholesterol Code – Reverse Engineering the Mystery
Another endeavor exploring metabolic health is the Citizen Science Foundation and its central endeavor, the LMHR Measurement Project. It has evolved out of Dave Feldman and Siobhan Huggin's work at Cholesterol Code. Currently, their Lean Mass Hyper-Responder [LMHR] project focuses on lipid profiles. Most LMHRs are fit in every aspect, but one. Because they are on very-low carbohydrate or ketogenic diets their blood-work often presents a paradox:
very low triglycerides with very high cholesterol.
Are there people out there that want high cholesterol?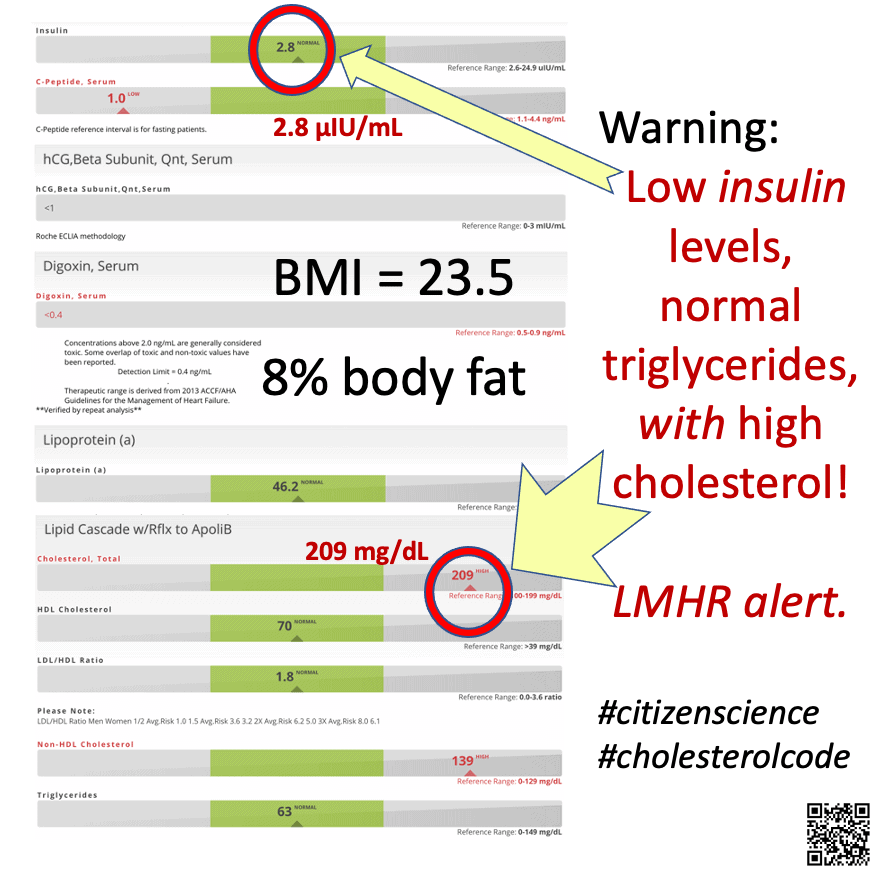 The LMHR Measurement Project uses anonymized data for their analysis. Here is a recent example excerpt provided by Mani Malagón, who is happy he fits the LMHR profile.(10),(11) The blood work results were obtained through Cholesterol Code and the BMI and percent body fat results came from an InBody™ machine. For our discussion on body composition and the importance of skeletal muscle (lean body mass) on basal metabolic refer to this summary graph.
What's a lean mass hyper-responder (LMHR)?
The Lean Mass Hyper-responder (LMHR) phenotype is characterized by LDL cholesterol of 200 mg/dL or higher, HDL-C of 80 mg/dL or higher, and Triglycerides of 70 mg/dL or lower. They are likewise interested in "borderline" LMHRs that are near these same cut points.
What other areas are Cholesterol Code and Citizen Science Foundation looking at?
Dave and Siobhan are working to
[P]rovide wide spectrum blood panels and cardiovascular testing such as CT Angiogram, Carotid Intima Media Thickness (CIMT), and Coronary Artery Calcium (CAC) score to this phenotype of interest where we likewise confirm no genetic Familial Hypercholesterolemia.

Cholesterol Code
By the way, Cholesterol Code is developing a data collection tool (CholesterolCode Report Tool v0.9.5.15) where you might want to provide data for their continuing studies. Do you think we'll be shifting from worrying about cholesterol to perhaps looking at a triglyceride and glucose index (TyG)? Such an index could give insights about insulin resistance and non-alcoholic fatty liver disease (NAFLD).(12),(13)
You might want to try the TyG calculator provided at Burn Fat Not Sugar.
Are leading thinkers redefining health?
Yes. Examples include positive health and phenotypic flexibility. P4 health advocates for an integrative vision of physical, mental and spiritual health while including complex factors that influence metabolic health.
Positive health
Positive health shifts the narrative from the current emphasis on intervention and remediation. It emphasizes maintaining metabolic health and preventing chronic diseases.(14),(15),(16),(17)
Phenotypic flexibility
The European Commission has funded the "Nutritech" project. It will explore the "Application of new technologies and methods in nutrition research – the example of phenotypic flexibility." It is based on
'phenotypic flexibility', based on metabolic flexibility (the capacity for the organism to adapt fuel oxidation to fuel availability)"(18) ,(19)
"P4 Health or O4 Medicine? Hippocrates provides the answer
P4 Health – ( Predictive, Preventative, Personalized, Participatory) "provides a framework to detect and prevent disease." They define O4 medicine as Overtesting, Overdiagnosis, Overtreatment, Overpayment.(20)
Do I have to improve my lifestyle or can I just take a pill instead?
Metabolic syndrome, obesity and diabetes are common and often occur together. Unfortunately, metabolic syndrome and obesity alone don't do a great job of predicting or classifying diabetes. Other risk factors are involved.(21) Would many of us benefit from embracing lifestyle medicine?
My thanks to Mani Malagon and Christie Barnett who both provided substantial research. Professor Richard Feinman for kindly providing his input. Mani Malagon was also my Fact Checker.
Sources:
Sources & Footnotes