9 curated metabolic health research portals save you time
We're celebrating our Organizing Research team launching a big project with Metabolic Multipliers Sarah Rice & Nutrition Network
1. Curated low carbohydrate nutrition research for 40+ metabolic conditions
Can you name 40+ medical conditions with a metabolic component? Would you like curated research on each? Well it is here, "Low Carbohydrate Nutrition References."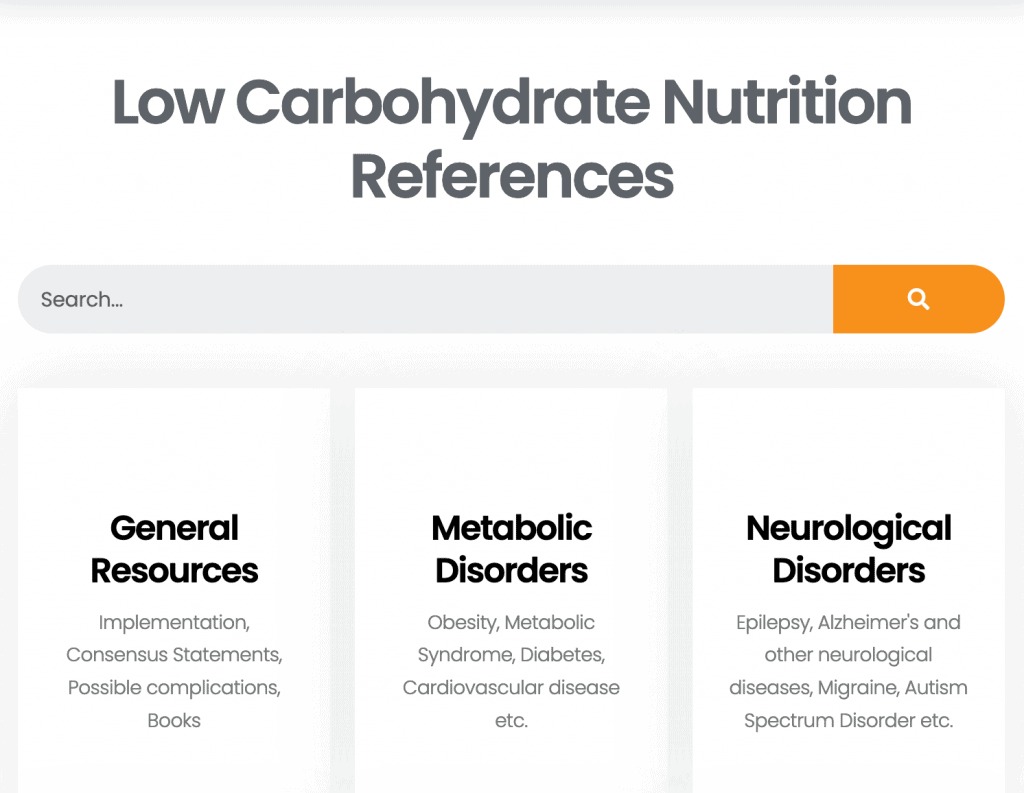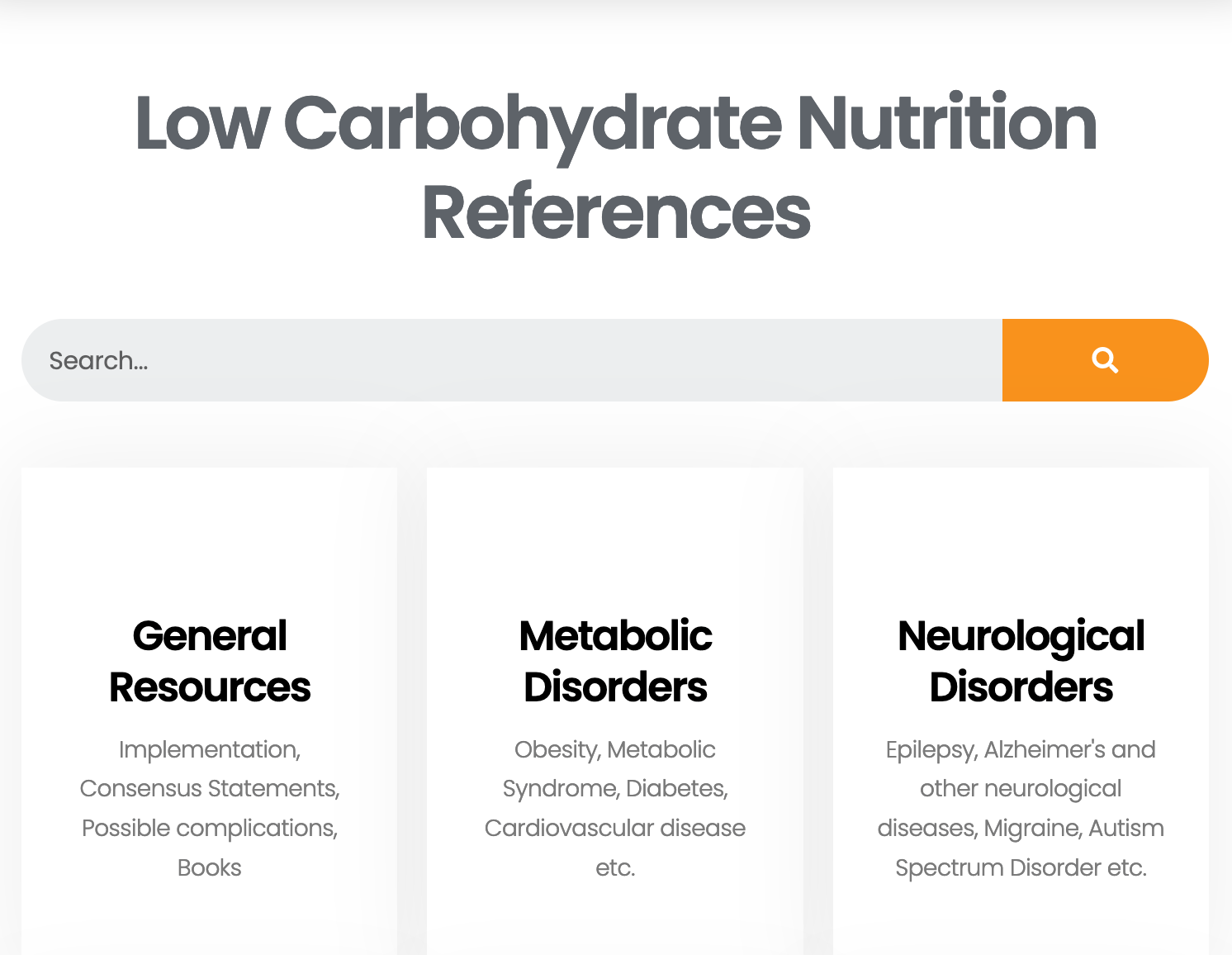 Tailor metabolic interventions to each patient's bio-individuality
Therapeutic carbohydrate reduction targets metabolic disorders. Pediatric and adult ketogenic diet therapies target neurological conditions. See our Best resources for an overview of keto diet therapies.
Other conditions which may have features of metabolic dysregulation have protocol variations emerging to augment existing therapies. E.g. migraines, inflammation, cancer, SIBO and polycystic kidney disease.
As we learn more about the gut microbiome's complexity will new, tailored protocols continue to emerge?
Printable downloads for 7+ common conditions
Of particular interest might be the printable downloads of curated research by topic: obesity, type 2 diabetes, cardiovascular disease, hypertension, NAFLD, menopause, and Autism Spectrum Disorder & ADHD. Others in the works.
Curated round up of each month's research
Looking for a curated list of each month's new research? The download section (above) includes that too for the last 3 months. Hoping it will save us all time.
Target audience – Convincing a curious clinician
We hope you'll find this resource useful in convincing the "curious clinician." Share with colleagues who want to see evidence of the efficacy of lifestyle change for promoting metabolic health. So, if a busy clinician specializing in condition X were to only read one study about condition Y, we help them out by putting the most interesting paper at the top.
This resource is best viewed by browsing sections and has basic search abilities. (In #2 Zotero group Metabolic Multiplier the search function often accesses the entire abstract rather than title and author assigned tags.)
Thank our Metabolic Multiplier's team volunteers
Scholarship courtesy of volunteer Sarah Rice, BSc.(Hons) MCOptom (Optometrist – UK). Professional formatting and hosting thanks to Nutrition Network. @Sara4Info on Twitter
Organizing Research team – Philip Ovadia, MD (this cardiologist's input on the cardiovascular disease handout was invaluable), Travis Statham, Sarah Rice & Cecile Seth
Clinicians Team – for reviewing how we're organizing this information. For visuals & details see our metabolic health schematics
Want better search capability, more studies, & less curation?
Your time is precious. So, we've also made 2 more complete reference libraries available as public Zotero groups. The search function & tagging in the Zotero version is much more robust than in Low Carbohydrate Nutrition References, so start your own search interests!
Perhaps most importantly, Sarah & Travis are doing the hard work of keeping these databases up to date. We extend a hearty thanks to them both for their on going community service!
We look forward to continuing to curate & amplify the excellent work of metabolic health thought leaders!
2. Search low carb nutrition in humans in 3500+ studies
Zotero group Metabolic Multiplier – Sarah's (& my) complete library. 3,500+ references available. (The Low Carbohydrate Nutrition References in #1 has a subset of ~ 1,000 references. These are tagged in this source library).
3. Search 10,000+ studies related to metabolic health, diets, and evolution
Zotero group Keto Science Database brings together many Zotero and Mendeley collections while also using references from popular books, the r/KetoScience subreddit itself (scrape, parse, automate) using Pushshift.io.
Includes all low carb diets, weight loss studies, carnivore, related evolution, anthropology, archeology, toxicology, biology, digestion, evolution of gut etc. Human and animal models.
Addresses important questions like Why did brain grow and gut shrink? Is Fiber Necessary?
Disease Specific Studies with a dietary or metabolic component: Diabetes: Type 1, Type 2, Type 3 (Dementia); Crohn's; Alzheimer's; Cancer etc.
Courtesy of Metabolic Multiplier Travis Statham, a ketoscience subreddit administrator.
Other curated research repositories
4. Ketoscience sub-reddit
The r/ketoscience subreddit members share and discuss the latest research with its 330,000+ members. They also host active "ask me anythings" (AMA's). Have aligned categories and tags with our Metabolic schematics. Administrators (including Metabolic Multiplier Travis Statham) seem to cover similar research alerts as Nutrition Network's Low Carbohydrate research portal
5. Atkins
Read over 150 peer-reviewed studies from major scientific publications that support the principles of the Atkins Diet. The abstract is listed for review, as well as a link to the full publication on PubMed. Part of their Health Care Professionals portal (Atkins HCP)
6. Public Health Collaboration: Informing Healthy Decisions
Randomised controlled trials comparing low-carb diets of less than 130g carbohydrate per day to low-fat diets of less than 35% fat of total calories with participants living with Type 2 Diabetes. Public Health Collaboration is a respected UK registered charity. (See our foundations supporting metabolic health to better understand the landscape.)
7. Revero (was MeatRx)
Over 50 categories of research supporting meat-based nutrition. Many of these studies also appear in #3 the Zotero group Keto Science Database on Zotero and #4 Ketoscience subreddit
8. The Fasting Method
Studies supporting intermittent fasting as a dietary intervention. They are updating their website and we will update with a link once it becomes available. Sources #1 Nutrition Network's Low Carbohydrate Nutrition research portal, #2 Zotero group Metabolic Multiplier, and #3 Zotero group Keto Science Database above also include sections on fasting based on The Fasting Method's excellent scholarship and generosity towards the metabolic health community.
9. Medical ketogenic diet for metabolic and mental health research
Psychiatrist & Harvard Medical School professor Chris Palmer, MD's bibliography as he explores the mental – metabolic health connection.
Success stories from the our team
Research curated by disease indication.