1915 Farm Regenerates Bodies & Soil
What does an "organic" label mean on a food package? What about "grass-fed" or "product of the USA" stamps? Do assurances come with a package of "cage-free" eggs? There are other troubling questions. If we can't change the dietary guidelines, can we change how we source our food? Does food production inevitably lead to soil depletion? Can food be grown in ways that strengthen the environment? Does meat production have to create toxic run-off and smell? Is there a difference between grain-finished and grass-fed meat? Can animals in the human food chain be grown in their natural state instead of cramped enclosures? How do you know if your food is glyphosate free?
Question Food | Grocery or Farmer's Market?|From Oil & Pharmaceuticals to Farming. | Conventional Jobs to Farming. | Where Does Food Come From? | How are Chicken Breasts Grown? |Meaning of "Organic" Label. | Buy Health Now or Pay for Illness Later | Is Food a Good Investment? |An Experiment Turned Business | A Few Laying Hens |Experimental Batch of 50 Hens | Un-Refrigerated Eggs. | Chickens & Pigs to 50 Head | Building to Size – Two Views | Infrastructure Size | Marketing Size | It's Obvious to a Casual Observer | Taste Testing the Meat | Farming in Suburbia
How do we build a food chain of trust?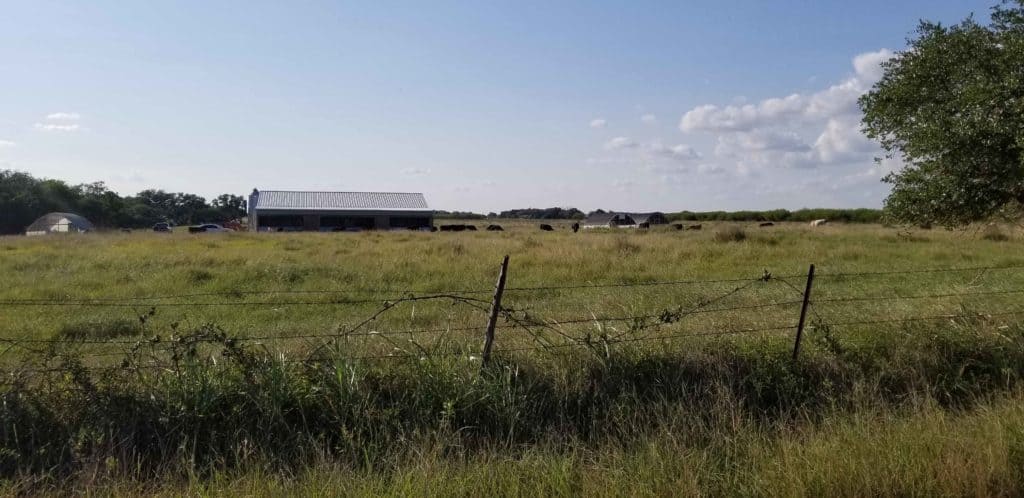 Grocery, Farmer's Market, or Mail Order?
For years I've been going to our local Farmer's Market, but never established a consistent connection for meat purchases. So, I had been buying grass-fed beef at H.E.B., a Texas supermarket chain. After hearing Brian Sanders talk, I bought my first mail-order batch of grass-finished meat through his Nose to Tail. During the 2019 Weston A Price Foundation conference in North Dallas I toured 3 farms. They were producing grass-fed or range-free beef, goat milk and cheeses, and chickens and eggs. As I looked for a similar local experience, a neighbor, mentioned that one of her former students was selling grass-fed beef at 1915 Farm! By the way, that neighbor has been following a ketogenic lifestyle.
From oil & pharmaceuticals to regenerative farming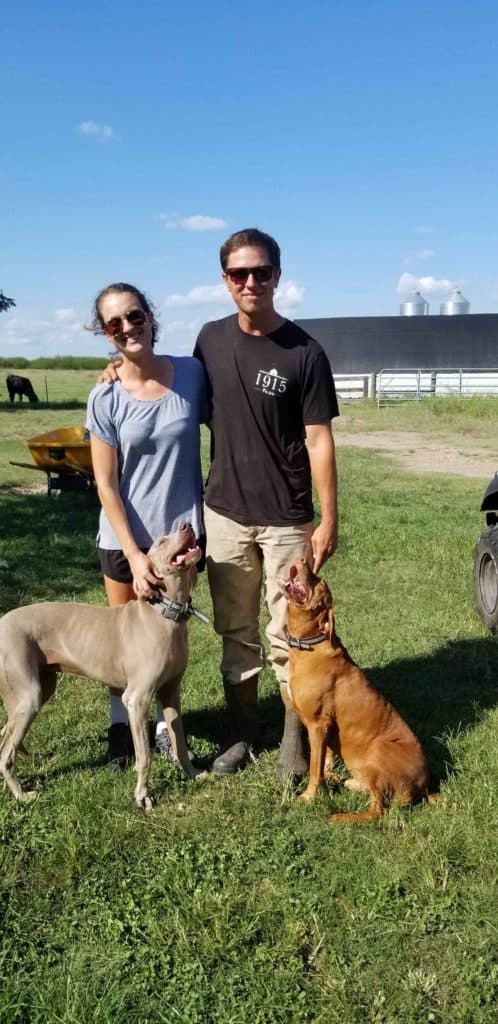 City living to a country home
Fast forward over a year. I've been purchasing grass-fed meats from Catherine and Tanner Klemcke. They grew up in my neighborhood here in Flour Bluff and Rockport, Texas and now live two hours north of here. As you can see from the photograph, the Klemckes are lean and wiry. Their food and lifestyle has molded their bodies. Both lost weight over the past few years after shifting from modern jobs to working with livestock.
Where does our food come from?
Catherine: "I graduated college with a business degree and moved to Victoria. That's where I got into oil and gas when I was doing corporate sales for them. Then I got into pharmaceutical sales. At the time, Tanner was in oil and gas as well, and instrumentation. We educated ourselves on where our food came from."
How are chicken breasts normally grown?
A lifestyle out in the country, outside the city, is something we knew we wanted. We watched the food documentary Food Inc. We were so oblivious to where food came from. At the time we were a couple of 25 year olds. We didn't think much past buying chicken breasts. At the grocery store we assumed that they were raised outdoors, like we raise them. Once educated on conventional farming and the way meat is commoditized these days, we realized it is grown at mass scale in big barns, cages or feedlots. That's when we decided: that's not what we want to eat. So let's try something different."
What does an "organic" label mean?
Catherine explained a bit about food labeling: "It's just insane. And then you take it a step deeper. Let's talk about the "pasture raised," the "grass fed," and the "organic labels." They don't mean much in America. Just because it's "organic" still means it's raised in a conventional manner and fed "organic feed". You can still use coccidiostats, you can still use drugs. But in America, we call that organic." And, as we discussed, meat imported from overseas can be labeled as "organic" and as "produced in the USA."
Buy health now or pay for illness later
I asked Catherine what she tells people that say that the meat 1915 Farm is selling costs twice as much as regular meat? She replied, "Do you want to know how much the diabetes medications cost that I would sell? I would say $800 a month. If you don't take care of your body, and you don't prioritize certain things like health and wellness, then it's gonna catch up to you in the long run."
Is food a good investment?
I followed up with the question. "So you think an investment in good food is going to prevent and alleviate chronic disease development over the course of time. Tanner added, "Thank you. Someone is gonna pay the bill at some point down the line. It can either be you on a preventative basis by eating right and having a healthy lifestyle. Or it will be your insurance company or your medication bills somewhere down the line."
An experiment turns into a business
What started out as a move to sourcing healthier food for themselves six years ago took on a life of its own and became an enterprise. Their research led them to Joel Salatin's PolyFace Farm where they produce healthy food and restore the land by using an ecological cycle of animals. As Tanner explains the ideas required modification. "Joel Salatin inspired us on the theoretical side. In practice, we adapted things to a different local climate and scale."
A few laying hens
1915 Farm started out more as a homestead and a change of life with a few laying hens. Catherine and Tanner's interest in how food was raised led them naturally to laying hens. As Tanner puts it, "they're everyone's gateway into breeding animals."
Experimental batch of hens
Their experiment grew larger and they tried a batch of 50 hens. They currently have two mobile chicken-coops. Not only do they provide eggs and chicken meat, but just as importantly they are rotated throughout their pastures to fertilized the earth.
Unrefrigerated eggs
Tanner commented that, "one of the biggest eye openers is when we started getting eggs. Finally, we realized that you don't have to refrigerate them. You're used to buying refrigerated eggs growing up in a America, but not necessarily in the rest of the world. That spurred us into researching this.
Why Why, Why are our eggs in America refrigerated? Well, it's because they have to be. Because they're washed so thoroughly, because they're so dirty when they come out of a cramped chicken house. But when you raise them outside on pasture in their natural environment and sunshine, you get clean eggs every day. They don't have to be scrubbed."
You also get, "Darker yolks that are more firm. They taste way different as well."
From chickens to pigs and one calf to 50 head
The next in 1915 Farm's evolution was meant for their own consumption: some pigs and a calf. The process "spiraled or snowballed." They picked Black Angus cattle due to their smaller, mid-framed proportions and suitability for rotational grass-feeding. Catherine explained that they're not "getting as big and bony like like a big old Brahma steer."
Currently they don't have a calf herd. They are sourcing their young stock from their brother or other local ranchers.
Build to the size you want to grow to: two viewpoints
I brought along my dog, an 11 year old Bouvier des Flanders, Gauthier. Catherine liked him a lot. I explained that they're farm dogs and that bouvier is French for herdsman. Bouviers are general purpose working dogs: protection, herding, cart pulling, etc. Some farmers like to pair a male and female Bouvier. That is because the female is more protective of livestock whilst the male is more concerned with the territory.
Build the farm infrastructure to size
Tanner observed that, "You reach a tipping-point. Because this is such a labor-intensive career, you reach a point where you physically can't scale any larger without leaving your other job. There's a lot of risk involved with it. If we could do it all over again, we now know that we wasted a lot of time and money building things to the scale we were at then. Instead, we should have built to where we could potentially be."
Personal connections and size
Catherine focuses on outreach. "Expect to spend a lot of time on marketing. Don't expect to spend all the time on raising animals. Even though it's a growing industry and super-exciting, it's still hard on the sales side of things. Be prepared to post on social media, build an email list, and have a really easy to use web-site. You need someone to focus on that piece, not just the farming. Someone who is telling a story and connecting with consumers, educating. That's a full time job. That's really what I do here."
The truth is anyone can raise animals,

that's not hard per se,

but selling them and selling a story is.

Tanner Klemcke
Catherine elaborated. "It's never been our passion to sell to chains or restaurants. That's because you lose the personal connection. We're passionate about educating and creating trust with families. We're about the experience. Human-to-human interaction, which doesn't have to be face-to-face. But you do need to be visible to your consumers. Mail orders work very well for us. Be laser focused on one market setting.
It's obvious to a casual observer
This is such a neat experience, I didn't even know this was a "thing" that people were doing. This seems like a "no-brainer" to me: We're going to make money off of these animals. They're healthy animals. Also, we're giving the land what it needs to benefit the other animals we're feeding.

Dr Kristin Knowlton
Tanner built on Kristin's observation. "That's one of the biggest benefits of coming into this without any experience. Like you say, we see this as a "no-brainer." We don't have any biases. It's beneficial to everyone."
It all boils down to cost and what the consumer is willing to pay. Eating cheap is a commodity, it's a mindset. But if you invest a bit more here, you're not only investing in food. You're also investing in animal welfare, your children's health, and the environment as well.

Catherine Klemcke
Taste-testing the meat
The "proof's in the pudding"! I gave a sampling of 1915 farm bacon, sausage, beef tongue, ground beef and liver to some friends. Two never had tasted liver before! The empty plates attest to the fact that great ingredients are the key to good cooking.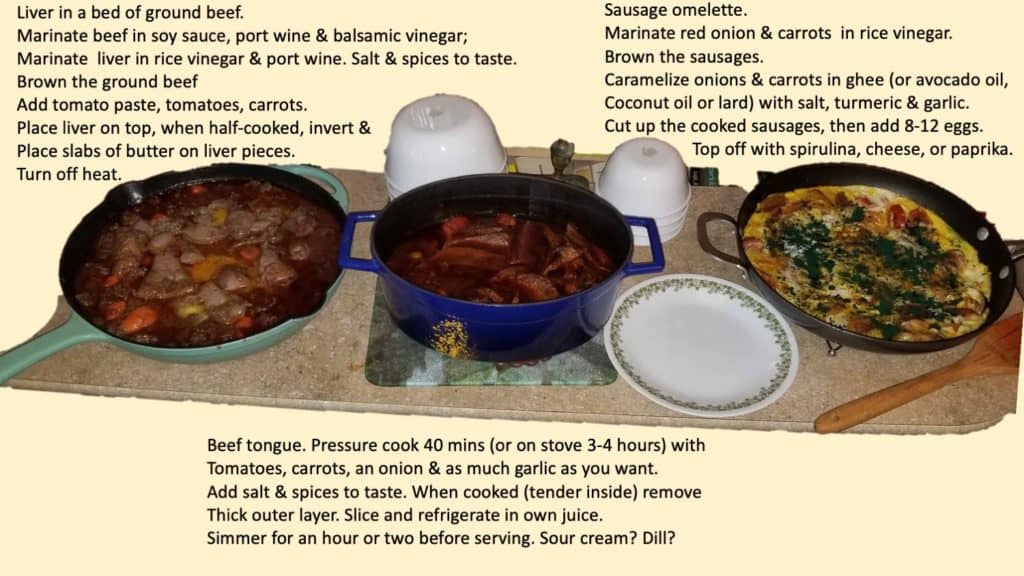 Farming in suburbia
Buying a carton of eggs or a package of beef from a grocery chain is a commercial transaction. In contrast, purchasing food from a local farmer is a relationship that forms a community. We had a farm tour guided by Will Winter on the last day of the 2019 Weston A Price Foundation conference. The tour included Prairie Homestead, Cartermere Farms, and N & P Farm and Dairy. They demonstrated three very different approaches to producing healthy food in a suburban environment. (North Dallas's relentless urbanization has now surrounded them):
You can find many free-range farms near you with getFreeRange. My next visit will be to Edelen Farms in Alice, TX. It is a family owned, second-generation farm promoting healthy agriculture and local foods. Edelen Farms Shopping.
Success stories from the our team
Other resource guides & toolkits you might value
Curious about improving metabolic health with lifestyle?
Where do I start improving my metabolic health?
For clinicians using therapeutic carbohydrate reduction (TCR), ketogenic diet therapies (KDT)
For colleagues interested in amplifying metabolic health