Leaders in metabolic health, keto, and Black culture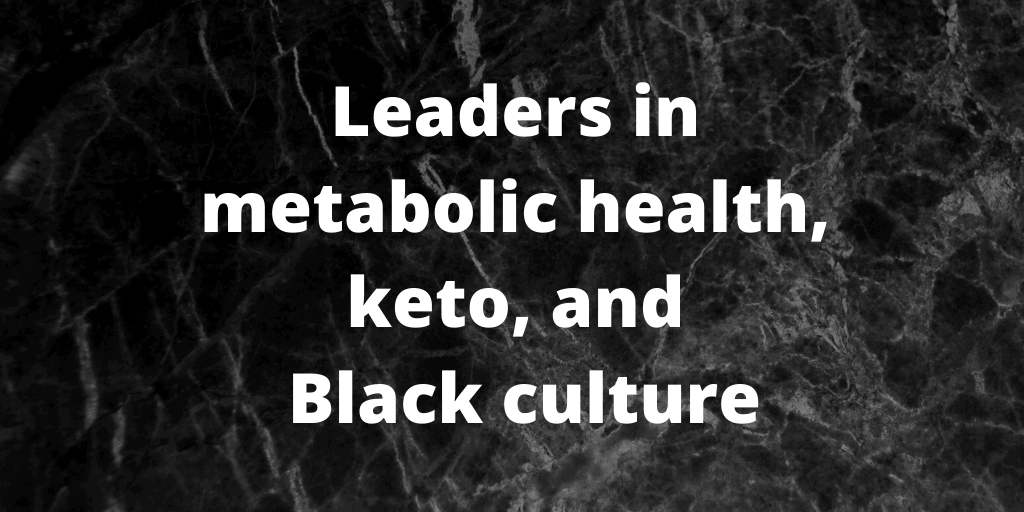 Black doctors and executives addressing metabolic health || Cecily Anne Clark-Ganheart, MD | Tony Hampton, MD | Tracey Brown, CEO|| Keto and Black culture Podcasts || Keto & Black culture success stories ||Black Keto Chefs & Recipes | Keto recipes – Cornbread, soul food & other American favorites.
Lifestyle changes are much more sustainable if they are enjoyable, affordable and culturally appropriate. "Maintaining our culture while incorporating healthier eating and habits is an issue for many communities of color." (1) Luckily, we don't have to make the journey alone. These Black content providers offer a great deal of information for free. If you find something useful then please encourage them with a like, follow, comment or purchase. Metabolic Multiplier does not receive financial compensation from anyone on this website. Someone or something we can add? Let us know in the comments below.
Black doctors & executives addressing metabolic health
Tony Hampton, MD, MBA, CPE, ABOM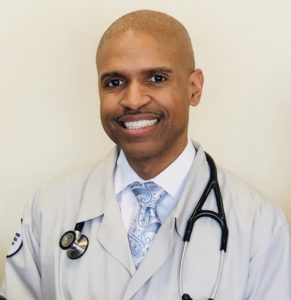 Dr. Tony Hampton is a Board Certified physician in Obesity Medicine and Family Medicine.
Dr. Hampton is particularly active on Twitter, his YouTube Channel and LinkedIN. His website is coming in late July.
"We need a fundamental paradigm shift in healthcare where we not only focus on diagnosing and treating disease but also understanding it's root cause providing a clearer path towards healing and the optimization of health." Dr. Tony Hampton
Cecily Anne Clark-Ganheart, MD, FACOG
Dr. Clark-Ganheart is a Maternal-Fetal Medicine physician with a certification in Obesity Medicine. She serves as a consultant for high risk pregnancies with a focus on helping women maximize health, wellness, and fertility. Dr. Clark-Ganheart brings a unique set of skills and perspectives on the metabolic health for women of childbearing age and their babies. We're particularly excited to hear her insights on using fasting ketosis to improve maternal and fetal health!
You can find Dr. Clark-Ganheart on her website, The Fasting Doctor. There you will find her (11) Podcast appearances. She's most active on Instagram, LinkedIN. YouTube Channel, and Facebook.
Kwadwo Kyeremanteng, MD
An ICU physician hailing from Ottawa, Canada, Dr. Kyeremanteng recently spoke with Bret Scher about Critical Illness prevention on a Diet Doctor podcast. Kwadwo Kyeremanteng also hosts his own podcast, Solving Healthcare, from the Resource Optimization Network.
---
Tracey Brown, CEO, ADA
Ms. Brown was CEO, American Diabetes Association (ADA), LinkedIN profile. She uses low-carb to manage her diabetes, as described on these podcasts and article.
Our article explains why over 50 doctors, researchers, and clinicians want change. Americans Can't Afford to Wait Any Longer. It's Time to Overhaul the U.S. Dietary Guidelines.
Keto and Black culture podcasts and groups
Metabolic Multiplier has not vetted all of these podcast episodes for the science. We'd love your feedback in the comments below.
Black Girls Keto Too with Wendy Featherston
22 Podcast episodes. Their Black Girls Keto Too by Wendy Featherston Facebook group has more than 40,000 members.
"What differs with me and my group is that we focus on mindset before anything else. When I started my journey I had to get my head in the game, first. I also focus on keeping things as simple as possible and adopting keto as a lifestyle shift versus a diet. The level of activity and conversation that takes place in our sacred sisterhood is unmatched. I have really created a sacred, positive, place where black women feel safe, and are celebrated while taking their health back in their own hands." Wendy Featherston
Black Keto Girl presents Keto After Dark with Kendra Wilson
Kendra has released 10 Episodes in total. Her companion website is Black Keto Girl. Her Black Keto Girl Facebook group has almost 6,000 members.
Kendra addresses an issue of concern to many with large amounts of weight to lose, excess skin. [Metabolic Multiplier's editorial note – Anecdotal evidence indicates there may be a non-surgical alternative. Consider adding intermittent fasting (24 to 42 hours) to your weight loss routine from the beginning. See The Fasting Method's success stories for Dolly and Robert and insights from Dr. Jason Fung.]
Coach Ede Fox, the Black Carnivore
Coach Ede Fox brings an African-American lens to therapeutic carbohydrate restriction and elimination diets. She hosts a YouTube Channel, a podcast and a website. They all help African Americans reverse metabolic diseases through lifestyle. Coach Fox lost 80 pounds herself in 2015 using therapeutic carbohydrate restriction. Then, in 2017, Ede reversed her asthma and allergies by eliminating additional foods. Her expertise includes zero carbohydrate, aka carnivore diets. Some sufferers of allergies, auto-immune, depression and other conditions report feeling better with changes such as these.
Black Carnivore, YouTube Channel
Over 7,000 subscribers tune in twice a week to Black Carnivore's channel to learn how others use lifestyle, ancestral eating patterns and ketogenic diets to improve their health. 
Black Keto Podcast and website
BlackKeto.com. Ede Fox & Imani Dawson host a podcast "Black Keto" spanning 6 episodes.
Keto AF Facebook group
Their Keto AF, Black Girls do Keto Too Facebook group has over 30,000 members. Black women only.
Keto and black culture success stories
Programs successfully reaching under-served communities of color
Eat Better South Africa – Improving South Africa's health by combating chronic metabolic disease in under-served communities. Since 2015 they have run 14 successful programs reducing diabetes and improving metabolic health.
Virta Health's success stories with Black patients
Diet Doctor's success stories with Black patients
Stories including ketogenic diets and intermittent fasting
Stories including low-carb diets and intermittent fasting
The Fasting Method's success with Black members
Ron Garrett, interviewed by 2 Keto Dudes
2 Keto Dudes Podcast "Ron 'Big Black' Garrett. Ron grew up following traditional bodybuilding and nutritional dogma. He trained hard and saw results. Unfortunately he also found himself suffering from joint pain and pre-diabetes. Ron has since discovered the ketogenic diet and it has proven to be the fountain of youth for him. He has taken what he's learned about the diet to help and improve the lives of others. At his work, in his church, and within the inner cities, Ron is using the ketogenic diet as a means to pay it forward!"
Chefs and recipes drawing from Black culture and ancestral foodways
Chef Taffiny Elrod, New York City & Hudson Valley
Chef Taffy's passion is to share classic cooking techniques with as many people as possible. A long time professional Chef, Elrod does just this on her website, ChefElrod.com. Taffiny is also a respected recipe developer and culinary instructor.
While her long standing restaurant recently closed due to COVID, we eagerly await her next project. Chef Taffy will build on her deep knowledge of the ketogenic, low-carbohydrate, whole food, and traditional cooking spaces. She just might return to her roots, investigate our swirl of cultures and pursue our ancestral foodways. My taste buds can hardly wait!
Chef Robert Ramsay, RD86
Thanks to Chef Robert, his RD86 restaurant is the culinary center of the universe for Ketofest. His generosity and vision enabled so many of us to broaden our keto cooking repertoire.
Recipes – Soul Food & ancestral foodways
Chicken Fried Steak with Gravy
Cornbread & Greens
Fried Chicken
Biscuits
Other Soul Food Favorites
Sides
Desserts
Classic Americana
AmazingRibs.com – "BBQ & Grilling In Depth. Up Your Game With Tested Recipes, Science-Based Tips On Technique, Equipment Reviews, Community". While not explicitly keto, we found this site extremely helpful. We love their East Carolina Mop Sauce (keto-friendly, vinegar-based sauce) but use an artificial sweetener. Cecile's father was born and bred in Birmingham, Alabama and always favored vinegar-based sauces (keto-friendly) over higher-carbohydrate, tomato-based barbecue sauces.
Soul food recipe ideas on Facebook
Our thanks to our summer intern, Nadia La Mar. She gave us the idea for this post as the first part of a series on Culture and Metabolic Health. Nadia is a rising college Freshman. She is interested in public health to benefit people of color and other disadvantaged groups.
Other Metabolic Multiplier Posts
Our summer intern inspired us!
Metabolic Multiplier's summer intern, Nadia La Mar, gave us the idea for this series on culture, affinity groups and life style: "My fight in the Black Lives Matter movement, which has had a major resurgence over the past two months, is not so common. While I have been doing my part to fight the institutional and systemic racism Black people face by donating to Black-led organizations, signing petitions, educating myself and others, and taking time for self-care, in the long-run, I want to be a public health professional. It is well known that Black people face daily barriers, including discrimination of many forms and lack of representation in professional fields. However, Black people face another set of barriers regarding their health. Higher rates of diabetes, heart disease, and other preventable diseases plague Black communities. How do you preserve a community's culture while still making sure people are eating healthy? The Black keto health professionals above show that both are achievable and attainable. We can still have our culture while respecting ourselves and our bodies. Black Lives Matter. Black culture matters. Black health matters." (1)
This post was fact checked by Christie Barnett, APN, Mani Malagon, and Nadia La Mar.
Sources & Footnotes
Nadia La Mar, interview with our summer intern, June 2021.[↩]