Return to Metabolic Health Resource Directory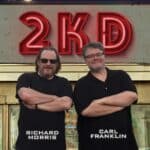 Details
Description
The 2 Keto Dudes were one of the early low-carb podcasts (February 2016 to January 2020) inspiring the founding of the Low Carb MD podcast, Metabolic Multiplier, among others.
Software developers Carl Franklin & Richard Morris founded the podcast and were later joined by professional chef Carrie Brown once Richard returned to school for a Masters degree.
2 Keto Dudes focus on:
Nearly 200 episodes, so far! Still well worth the listen.  Check out episode #96 to hear Raj's journey: obese & diabetic to healthy, how he & his wife, Cecile Seth, got started.
Ketogenic Forums - a virtual discussion group - Free
Their secret sauce includes the forum's active, knowledgeable administrators providing guidance. 2 Keto Dude's early-mover advantage brought tremendous loyalty from early adopters. With their background in software the Ketogenic Forums work extremely well.
A rich, treasure-trove of topics: Recipes, Show me the Science, accountability "Progress", Fasting, Newbies, Health, Community, Exercise, Resources, How to, & Chat.
Ketofest - conference + festival
A ketogenic science and food festival in New London, CT.  One of the most enjoyable low-carb conferences around, in part because the Ketogenic Forums have always give the 2 Keto Dudes a dynamic, bi-directional relationship with their fans.  Since at least 2017 - 2022. In 2023 Ketofest is expected to be in summer or fall. Their Facebook page is a great place to see their past events.
A very non-judgmental space for in-person attendees whose weight-loss health journey has not yet taken them where they'd like to be.
From the podcast.  Well known foodies, their recipes helped smash the "#BoringKeto" criticism. Many are simple but yummy.
Recipe demonstrations from Ketofest festivals, mini Keto Tests, etc.
Still a relevant primer on the science.