Who does diabetes hit hardest?
U.S. Diabetes statistics | hardest hit ethnic groups | Education level | Ethnic group hi's and low's | High risk youth groups | Insightful Infographics
In the National Diabetes Statistics Report 2020, the Center for Disease Control estimates the prevalence of diabetes and its burden in the United States. As many already knew, Diabetes hits some harder than others. Unfortunately, the hardest hit groups may be the least likely to know that diabetes can be reversible with diet and other improvements to your metabolic health
Which ethnic groups does diabetes hit hardest?
Culture and community can play a big role for all of us succeeding in lifestyle challenges. In the United States the five ethnic / racial groups hardest hit by diabetes are Americans who also identify as Native American, Mexican American, Asian Indian, Puerto Rican and Black. Luckily, each of these cultures have heritage-based Foodways that support a low-carb, metabolically healthy lifestyle. as well as leaders in each of these hard hit groups.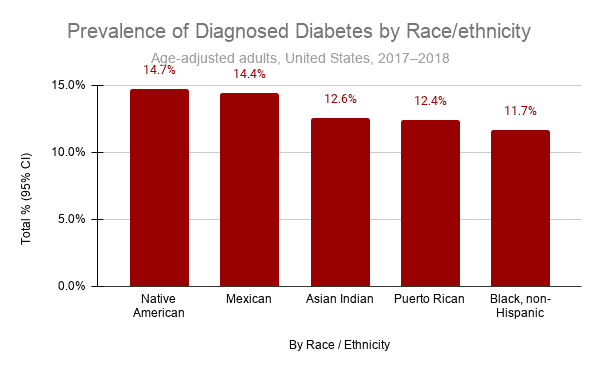 Education level – adults with the least schooling are most likely to have diabetes
Diabetes is most prevalent among adults who have not finished high school (13.3%). It is least prevalent for adults who have more than a high school education. Could these higher diabetes rates be because the less educated are more likely to be living in poverty and qualify for programs dictated by the dietary guidelines? For example, are the poor are more likely to receive institutional meals from school lunch programs, nursing homes, hospitals, and prisons?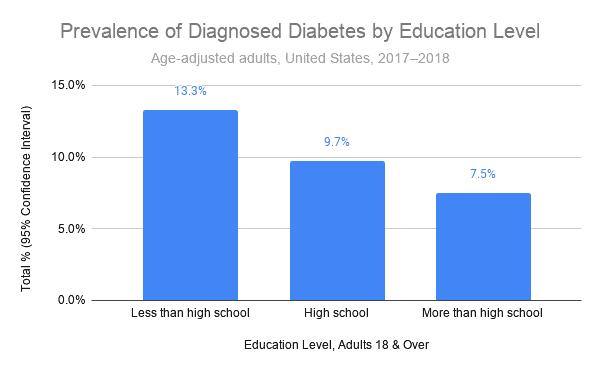 Likelihood varies dramatically by ethnic group
A Native-American is over two and a half times more likely to have diabetes than a Chinese-American.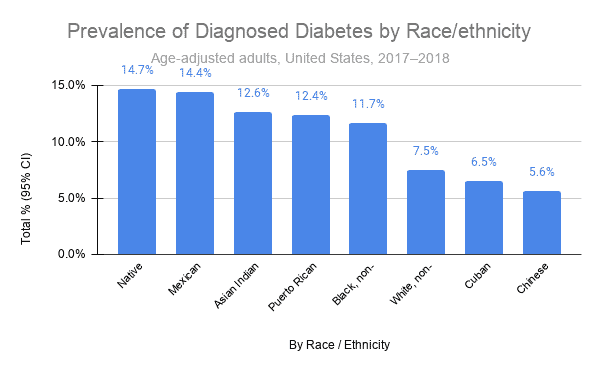 What might the ethnic groups with the lowest diabetes rates have in common? What can white, non-Hispanics learn about avoiding diabetes from Cuban-Americans and Chinese-Americans? Note that Central / South Americans adults also have low diabetes, but less so in their adolescents and and young adults. What can we all learn about diabetes control and from these cultures and age groups?
More home cooked meals? More real food in traditional combinations?
Less sugar (especially drinks) and hyper-processed foods?
More saturated fats from traditional sources such as lard, tallow and bacon fat?
Meat eating, including ruminants such as beef, lamb and goat?
We'd love your ideas and insights in the comments!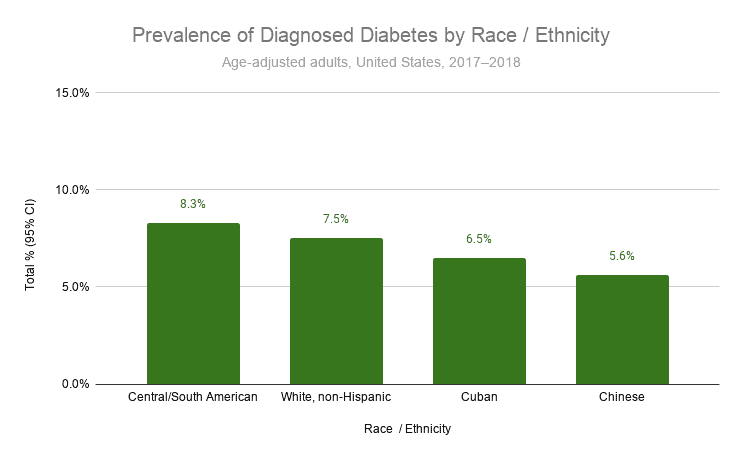 Socioeconomic status differences between ethnic groups can impact health with education and higher income having a positive effect. (1) (2)
Which adolescents and young adults are most at risk?
In an effort to reach at risk young people, Interventional Cardiologist, Christian Assad, MD has turned to TikTok, primarily in Spanish. Dr. Assad teamed up with fellow physician Ariel Ortiz, MD to offer a much needed Spanish language podcast, ViveSinDietas.org focused on metabolic health. Why is Dr. Assad so passionate? Read or listen here, here or here. [Author's note: Don't let Dr. Assad's dance moves and obvious compassion fool you. His science lectures are extremely articulate as well.]
Other useful diabetes statistics from the CDC
Sources & Footnotes
Williams, D. R., Priest, N., & Anderson, N. B. (2016). Understanding associations among race, socioeconomic status, and health: Patterns and prospects. Health psychology : official journal of the Division of Health Psychology, American Psychological Association, 35(4), 407–411. https://doi.org/10.1037/hea0000242[↩]
Ethnic and Racial Minorities & Socioeconomic Status. https://www.apa.org/pi/ses/resources/publications/minorities Retrieved July 9, 2020.[↩]