Return to Metabolic Health Resource Directory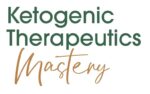 Details
Description
Accredited ketogenic therapeutics mastery courses  taught by respected, pediatric-epilepsy dietitians with long standing relationships with the Charlie Foundation for Ketogenic Therapies.
For practitioners only.
Ketogenic Metabolic Therapies courses
Watch virtual, pre-recorded sessions
Instructors 
Beth Zupec-Kania RDN, CD.
Denise Potter, RDN, CSP, CDCES. Founder, Potter Dietitian Consulting.
Both winners of prestigious Metabolic Mind awards in Fall of 2022. Combined 45 years of pediatric
Metabolic Psychiatry
When asked "Who are your top 3 keto teachers...?" on twitter Dr. Chris Palmer, MD replied,
If you're looking for specifics on the details of the diet, I would choose @KaniaZupec and @KetoPotterRDN. They teach a class together, so I'll leave it at 2!
These are those classes.