Return to Metabolic Health Resource Directory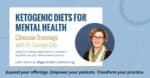 Details
Description
Ketogenic diets have the potential to revolutionize psychiatric care, however their use can pose unique challenges in the context of mental health conditions such as eating disorders, bipolar mood conditions, and food addiction, and when combined with psychiatric medications. Board-certified psychiatrist Dr. Georgia Ede created this CME clinician training course to prepare clinicians to anticipate and safely manage these unique challenges.
Clinician Directory - Practitioners trained in Ketogenic Diets for Mental Health
Live, virtual, classes limited to 6 clinicians per series ensure a quality group experience
Scientific underpinnings, clinical evaluation, risk assessment, patient engagement, dietary options, implementation, troubleshooting, case studies, and much more
Psychiatric medication management in the context of low-carbohydrate diets for prescribers and non-prescribers
100+ pages of fully referenced clinical materials to support your practice, including patient handouts
Opportunities to network with like-minded clinicians and learn how to grow your practice
This program welcomes adult-focused clinicians from all disciplines including psychiatrists, nurse practitioners, primary care physicians, psychologists, nutrition therapists, social workers, and health coaches.